If you are looking for how to add a calendar in WordPress site you have come to the right place. In this article, we will explain how to add a calendar, choosing the right plugin, and give a recommendation on some of the best calendar plugin that available in the market.
How to Add a Calendar in WordPress
If you are using google calendar, you can add a calendar in your WordPress site by manually add an iframe into the post/page. You can also using a WordPress plugin if you need more features.
Add Google Calendar in WordPress
Google calendar is a great tool for managing events and the good part it connect with google products such as Drive and Gmail. When you get an email about an event like a flight, hotel, concert or restaurant reservation, it will be added to your calendar automatically.
Embedding a Google Calendar
Google calendar comes with a feature that allow you to embed your calendar into your website. You can add an interactive version of your calendar to your website, and add buttons for your website visitors to save your calendar events. To get started, follow the steps below:
In Google calendar, click on the little arrow next to your calendar name and select the calendar settings link.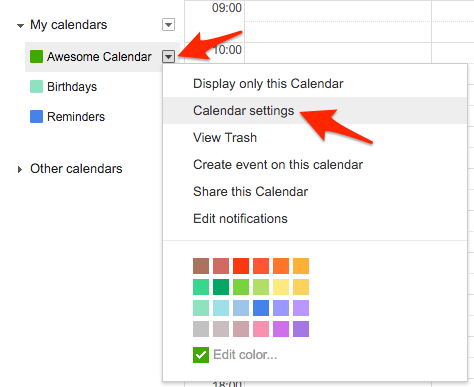 Click on the "Share this Calendar" tab. In order to make your calendar public, check the checkbox called "Make this calendar public". After that click the "Save" button.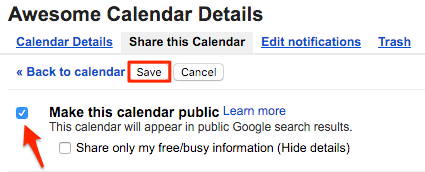 Click on the "Calendar Details" tab and copy/paste the embed code into the post/page. The embed code contains your Google account name, so be sure you're okay with making that name public.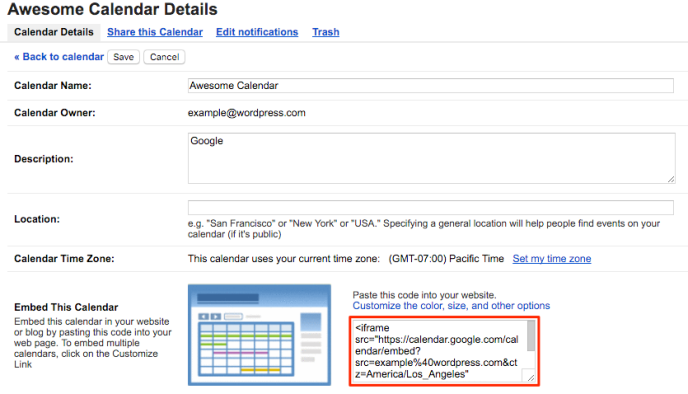 Now you can paste the code directly into your HTML/Text editor.

Here is an example of what an embedded calendar will look like.
Choosing the Best WordPress Calendar Plugin
There are plenty of WordPress calendar plugins with different set of features and capabilities. In order to choose the right plugin, you need to know what you want to do with the calendar or what features that you need.
Do you want to display simple event or you want to use it as an event management with booking system? If you want to just display a simple event, you can use Google Calendar or free WordPress plugin. However, if you need an event management you may consider premium plugin with advanced feature and customization.
List of WordPress Event Calendar Plugin
With more than 1000 WordPress calendar plugins that available, it may hard to choose the right one. To make it easier for you, we have make the list of the best WordPress event calendar plugin below:
The Events Calendar

The Events Calendar is a great events calendar plugin with 600,000 active installations and 4.5 star ratings. It's easy to use and have simple user interface. You can create recurring events, handling event ticket sales, and using Facebook event integration with premium version and add ons. You can also import events from Google Calendar.
Some features:
Nice admin area with simple user interface
Display Google Maps for your venue locations
View details
My Calendar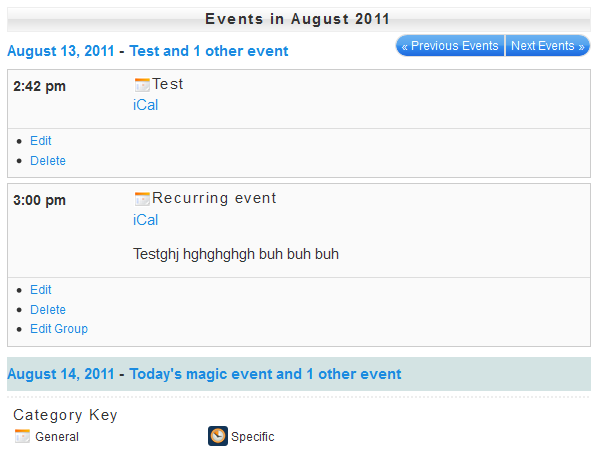 My Calendar is free event management plugin for WordPress with 30,000+ active installations and 4.5 star ratings. It supports multiple calendars, event groups, categories, and locations. It has shortcode generator and you can add calendars to your posts, pages, or sidebars through widgets.
Some features:
Upload your own custom CSS
Google Map display
View details
EventOn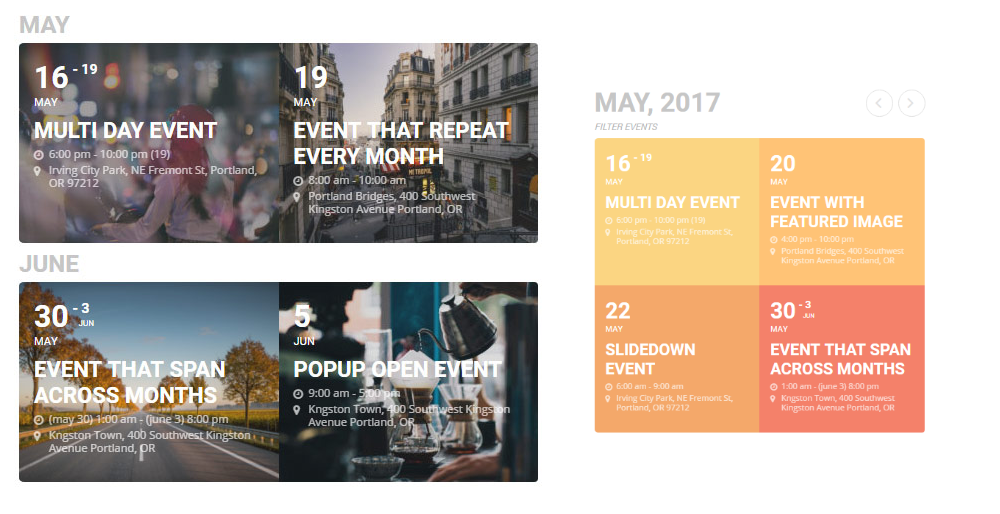 EventOn is premium WordPress event calendar plugin with more than  30,000 sales in codecanyon. It has professional design to enhanced user experience. You can add custom color, featured image, Google Maps, event details excerpt, custom meta fields, categories and font icon to the events.
Some features:
Beautiful design
Set event location image
Use universal time and date format
Various options for how a user can interact with event
Integrated PayPal to accept payments for events
View details
Modern Events Calendar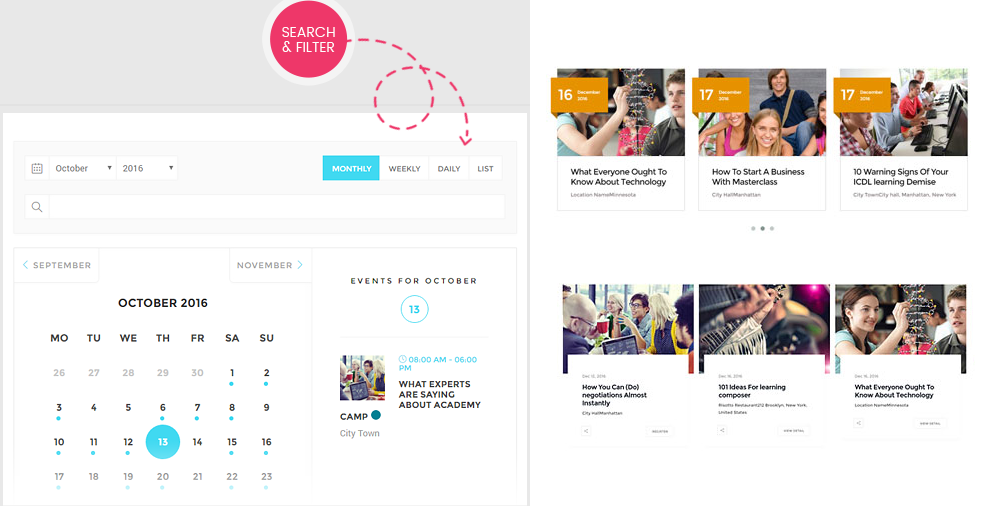 This is a premium WordPress events calendar plugin with booking system that allows visitors to book an event online. It has live demo, so you can login into WordPress dashboard and try before purchase it.
Some features:
Modern design
Google calendar integration
Event featured image
Compatible with Visual Composer page builder plugin
Paypal integration
View details
Best WordPress Event Calendar Plugin Compared
| | The Events Calendar | My Calendar | EventOn | Modern Events Calendar |
| --- | --- | --- | --- | --- |
| Design | Basic | Basic | Advanced | Advanced |
| Booking System | Add on | Add on | Add on | Included |
| Google Calendar | Yes | Yes | Yes | Yes |
| Active Installation | 600,000+ | 30,000+ | 30,000+ sales | 3,000+ sales |
| Free Version | Available | Available | Premium plugin | Premium plugin |
| Premium Version | $89-$299 | $49-$149 | $24 | $34 |
| Detail | view detail | view detail | view detail | view detail |